It's been a few weeks since I've written one of these posts. I have to say that more often than not it has everything to do with not taking pictures. I'm pretty positive that there are perhaps hundreds of pictures throughout my week that I don't take that I could use. Unfortunately I'm just not quick on the draw to take pictures like my wife is. She is on the ball. I am not. But I'm working on it.
But I'm back with a vengance this week. So here we go...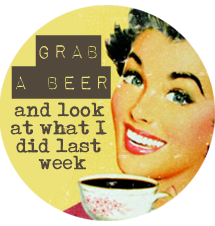 Ana is very excited about this post.
Sitting in daddy's chair
What do we have here?
Erin bought me a hedge trimmer as what I'm guessing was a father's day gift, or should I say that my girls got it for me. I have to tell you it makes my yard work so much easier. I figure it will give me some extra baby time.
This was another of the father's day presents that my girls got me. It has excellent character development. A good story. Food falling from the sky. Pretty much everything that you could want in a book.
Grace and Ana are like seconds away from crawling and making my life incredibly more difficult.
I'm thinking Grace probably feels like a millionaire at the time of this picture. Or as we like to call it "Double Fisting It"
The first real pizza I've had in months. It was glorious. Seriously. I think the waiting for it made it that much better. Now I know how all those people who wait until marriage feel.
Let's just say this may have had something to my horrible hangover on Saturday. It was a blast at the time though.
We're working on a new Olympic sport Baby Greco Roman Wrestling. Right now Ana is dominating, but Grace will only improve as she practices against someone in a higher weight class.
Just admiring our hats.
Can't get enough of pictures like this.
Okay this picture wasn't taken in the last week, but damnit my wife is hilarious and obviously has very little shame. This is her modeling the Giants Snuggie.
That's all for this week. Have a great one.